KYLIE JENNER WALKING IN AD FASHION SHOW AGAIN
Avril Lavigne Returning to Fashion Week with Kylie Jenner

No awkwardness here! Though she split from Brody Jenner - and recently became engaged to Chad Kroeger - Avril Lavigne has invited Brody's step-sis Kylie Jenner to return to the catwalk in her Abbey Dawn fashion show at New York Fashion Week next month. (It's complicated, we know.) The teen model made a splash when she hit the runway (and brought lots of her siblings) during last year's show.

Lavigne confirmed the news to PEOPLE this week at the MAGIC fashion trade show in Las Vegas, where she was presenting the latest from her line.

"This is where the buyers are," she explained. "It's business, but I'm excited to be here. After seeing everything on paper, everything is finally here. I'm trying to function, but it feels like we're in a candy store."

The four-year-old line "is a lot better," than when it launched in 2008, the singer said. "When I started, it was a cheaper price point and geared toward a younger audience." Now, "it's a little hipper, good quality. It appeals to everyone. It's really great."

Admitting that she loves dressing her mom and sister - "I do their hair, too," she shared - Lavigne said she most enjoys dressing up her guy friends. Chad, you've been warned!
DETAILS ON AVRIL'S RING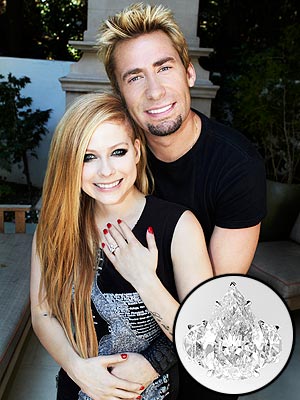 All the Details on Avril Lavigne's 14-carat Engagement Ring

When it comes to Avril Lavigne's engagement ring, it's not so complicated - it's huge!

Her new fiance, Nickelback singer/guitarist Chad Kroeger, 37, chose a stunning sparkler for his Aug. 8 proposal.

"We helped Chad custom create Avril's dream ring: a platinum-set pear-shape diamond with half moons totaling 14 carats from XIVKARATS in Beverly Hills," designer Caryn Alpert tells PEOPLE exclusively. "What a perfect pair/pear!"

The bride-to-be, 27, "is glowing," a family source tells PEOPLE. Adds a friend: "Just looking at them, you can see how much he adores her."

-Marisa Laudadio


So Avril's friend Caryn is the designer?
AVRIL AND CHAD CELEBRATE IN LAS VEGAS
Exclusive: Avril Lavigne and Nickelback Frontman Chad Kroeger Celebrate Engagement in Las Vegas!

How does a newly engaged couple celebrate? By partying in Las Vegas, of course!

Life & Style can reveal that Avril Lavigne, 27, and her fiance, Nickelback frontman Chad Kroeger, 37, wasted no time in toasting their happy news.

"They went to 1 Oak Nightclub in Las Vegas on Aug. 21 to celebrate their engagement," an eyewitness tells Life & Style. "Avril arrived first with a bunch of male friends and bodyguards, then Chad showed up later and met them inside. Avril was so excited to see her man."

"They were super cuddly and affectionate," the eyewitness adds. "They drank Dom Perignon and Grey Goose."

After splitting with longtime beau Brody Jenner in January, Avril began secretly seeing Chad in February. Six months later, Chad reportedly popped the question with a 14-carat-diamond ring!

This will be the second marriage for the songstress and the first for the rocker. Avril previously wed Sum 41's Deryck Whibley in 2006 and filed for divorce from him three years later. Chad dated former hair salon owner Marianne Gurick from 2002 to 2009. Though never married, they had a common-law partnership.
AVRIL & CHAD (CHAVRIL?!) ENGAGEMENT PHOTO!

Avril and Chad are on the cover of Hello! Canada magazine looking sooooo happy! Check out Avril's diamond SPARKLER! WOWZA! I can't remember seeing Avril so happy posing for a picture! BEAUTIFUL!

The full article will be out tomorrow, but we can look forward to seeing engagement photos, and "AWWWW" moments like him saying "I knew I was falling for her. It was incredibly powerful and something I'll never forget." The 37-year-old also says he feels "like the luckiest person alive." Or Avril saying "He makes me laugh every day. He takes care of me in every way and is extremely attentive."

The magazine is in stores Thursday. Click for a preview of inside the magazine showing Avril with a beautiful white dress!



[EDIT] A preview of the People magazine article and closeup of the 14K ring.


MAGIC CONVENTION - AUGUST 22

Avril is in Las Vegas attending the MAGIC Convention to show off the new upcoming Abbey Dawn convention. This took place yesterday afternoon, before the engagement announcement, so Avril is not wearing her ring. She looks so happy, doesn't she?


AVRIL AND CHAD KROEGER ARE ENGAGED TO BE MARRIED!

WHOA! Now we know what Avril has been busy doing during her time off!

People magazine has exclusively reported:

Avril Lavigne Engaged to Nickelback's Chad Kroeger

Whoa, Canada!

Avril Lavigne and Nickelback frontman Chad Kroeger's relationship has been so quiet that few even knew they were dating. Now, after a six-month courtship, the Canadian rockers are engaged to be married, Lavigne's rep tells PEOPLE exclusively.

Lavigne, 27, and Kroeger, 37, first got together in February to co-write a song for Lavigne's upcoming fifth studio album.

"A romantic relationship blossomed as they spent time writing together," a Lavigne pal tells PEOPLE.

On Aug. 8, Kroeger popped the question, presenting Lavigne with a 14-carat diamond sparkler.

"He makes her so happy," a family source tells PEOPLE. "Both of their families could not be more excited."

It will be Kroeger's first trip down the aisle, and the second marriage for Lavigne, who split from Sum 41 frontman Deryck Whibley in 2009. She had also dated Brody Jenner.

For an exclusive engagement photo plus more on Lavigne's stunning ring, check out this week's issue of PEOPLE, on newsstands Friday

-----------------
If this news shocks you, you are not alone! I wouldn't have believed it if it wasn't tweeted officially. I am extremely happy for the two, but it's amazing how we never even knew that they were officially dating! They did a great job keeping their private lives, private! CONGRATS YOU TWO!

ABBEY DAWN PHOTO SHOOT
Here is another new Abbey Dawn photo from the newest photo shoot. It seems to me that the pictures (in better quality) should be out any time now! Enjoy Avril's sexiness! I'm also liking the new logo!

AVRIL STILL RECORDING
It's been a while since we have heard from Avril regarding updates for when the 5th album is to be released. As of a few months ago she said that the record is finished, but recently (as recent as today) we have confirmation from songwriter/producer David Hodges that she is still in the studio. Making us more b-sides perhaps? Or maybe we can expect a bigger record with 16 or so songs? Hopefully we hear more info soon!

EDIT: Avril says the record is 100% done! From Twitter, Aug 19: "That's a wrap boyz @hodgesmusic and chad @Nickelback !!! Woo hoo. Super stoked for this record"
ABBEY DAWN @ MAGIC
For those of you in the Las Vegas area, Abbey Dawn will be showcased again this year at the MAGIC Marketplace, a fashion trade show. Check out AD at booth #72307 at the Las Vegas Convention Center on August 21-23. No word on if Avril will be attending again this year, but for now, enjoy these 2 new photo shoot pictures put out by AbbeyDawn.com

GET A PHONE CALL FROM AVRIL OR WIN A SIGNED GUITAR
Bobsled, a communication app that allows users to easily message is teaming up with superstar Avril Lavigne to give six lucky winners the chance to connect with her personally. Five fans will receive a personal phone call from Avril and one lucky winner will walk away with an autographed Fender guitar!

To enter, simply visit their Facebook page before August 10th and tell us how you'd like Avril to contact you (via phone, text, or email). Share the message with your friends and you're entered to win the autographed Fender guitar as well!

About Bobsled:
With a universal way to communicate, Bobsled users can easily message or call for free across devices, countries, social networks, operating systems - and all mobile carriers. Make in-flight calls, leave voice messages on Facebook, and message your friends from your desktop with one simple app. Watch the video, download the app, and start connecting with friends all over the world!

HOLLYWOOD - AUGUST 1

Avril was in Hollywood on Wednesday shopping at PopKiller Clothing, seemingly filming something with her friend Dipple.


TWITTER PICTURES
Now that Avril's back home from her vacations she has been posting some cute pictures on her Twitter. Yesterday, she posted one with her "bestie", marketing extraordinare Mike Heller, as well as 3 make-up free pictures posing with her makeup artist and friend, Gabriel. Doesn't Avril look gorgeous without all of that heavy black eyeliner? Less is more honey!